I will start by the end. The team qualified for the AFC Champions League after seven years. This was the club's top objective and we made it, even though it was no simple task. Out of seven teams competing for the same goal, we had the lowest budget of all. However, this did not prevent us from fighting for all 30 league matches. The players had an exemplary behaviour and were equally united in success and adversity, in victory and defeat, and became even more involved after our goalscorer, Demba Ba, was injured.
We were the only top-flight team without a single international player. However, once the competition was over, Cao was called up for international duty for the first time, to face Qatar, which was an important recognition for him personally and also for the team's collective work.
On a different note, the closing Gala of Chinese football took place after the competition ended. This year it was held in Kunming city, and I attended as one of the three nominees for Best Coach of the season. Two years ago, I had the great honour of receiving this award and on this occasion it went to Scolari, coach of Super League champions, Guanzhou Evergrande. It was a great satisfaction to be nominated once again this year, as this represents a recognition of my work by my colleagues.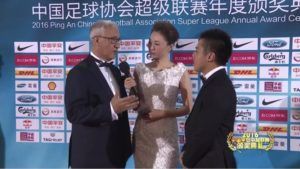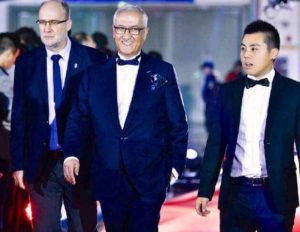 Before the gala, and with three matches to go until the end of the tournament, my club's President called me to tell me that the Chinese Football Federation was interested in a meeting with a view to managing the Chinese National Team. I replied that if he "gave his permission" I would be honoured to attend that meeting, and so it was. We met for a little over five hours, analysing and reviewing the past, present and future of the National Team. Meanwhile, my agent and my lawyer were waiting on the other side of the phone, in Madrid, in preparation for a formal agreement which didn't end up taking place. I was offered the position just for the five remaining matches in the qualification stage for the Russian World Cup. However, I explained my working methodology and my view of the importance of creating a closely-knit team first. The National Team had to think in the medium and long term. I presented my vision and a proposal to be in charge of the National Team until the Asian Cup to be held in January 2018. I explained that I needed time to build a strong and united squad for the future, but they were only seeking an immediate result. So, unfortunately, I had to decline, since I could not commit to the nigh-impossible mission of qualifying for the Russian World Cup. At the time of that meeting, the Chinese team had only scored one point and were bottom of their qualifying group, so they needed to win the remaining five matches. Moreover, the squad and system had changed constantly in the games played so far, so there was no established team. In my opinion, this was the first issue that had to be addressed, and it would take time. Furthermore, a contract for just the five matches remaining in the group stage would have forced me to abandon the project with Shenhua, and this was not something that I wanted to do. So I ended up thanking them for their consideration and their interest, and expressing my hope that perhaps in the future we could reach an agreement.
Finally, reviewing this season and everything that the team has achieved, we can say that we improved on last year's result, scored more goals and conceded less than last season, did not lose two consecutive matches and achieved some historic victories, beating Shanghai SIGP and the champions Guanzhou Evergrande for the first time. In addition, our player Demba Ba was the league's top goalscorer until his injury, we won at Shandong and Tianjin for the first time, and set a RECORD of 6 consecutive victories at home. But, there was one record that stood out among the rest: we ended the tournament UNDEFEATED AT HOME. This had never happened in the club's history, and for me personally it was also the first time in my career as a coach that I hadn't suffered a single defeat at home, so I also achieved a personal record.
All of this has been made possible thanks to the players' drive, their intrinsic motivation and ambition to improve and by working together towards the common objective. I could go through a long list of tasks and challenges covered throughout the season, but they can be summarised in one point: the players have been fearless in pursuing the team's goal and have ended up reaching it. I wish to thank each and every one of them for their effort and enthusiasm, and for believing wholeheartedly in the ideas that I asked them to keep in mind at all times: intensity, focus and playing good football. They have certainly done this and I want to acknowledge it.
The President and I have had different sporting and management views, so I will no longer be in charge of the team next season, but I will certainly carry SHENHUA in my heart as a club where I spent a beautiful stage of my professional career.
All the best,
Gregorio Manzano Ballesteros

English translation by:
Literalias Translations